About
This is a carousel with auto-rotating slides. Activate pause button to disable rotation. Activate play button to enable the rotation. Use the slide dots to jump to a slide.
HERITAGE
Since 1965 our passion has been bringing design dreams to life with the singular, timeless beauty of natural stone. The earth's most durable building material has a distinctive combination of durability, warmth, and beauty. It has inspired artisans over the centuries. Our stones are fabricated and sourced on a global scale. We quarry, cut, carve, polish, create mosaics, and other bespoke stone work. The natural striations and color variations, combined with our bespoke solutions, make each project unique. 
MATERIAL is the only stone and tile supplier in the U.S. to own and operate manufacturing facilities. This allows us to cater to design professionals and homeowners alike. We ensure superior quality from the quarry to the project site. 
OUR EVOLUTION

MATERIAL, formerly known as "Materials Marketing," was founded by Don Rymer Senior in 1962. But it wasn't until 1964 that he opened his first store. Mr. Rymer was the first to import Saltillo tiles to the U.S. from Mexico's Coahuila region - and an early explorer of their beautiful handcrafted materials. Little do people know that it also fueled his inspiration for the company name: "Materials Marketing."
It was representative of the hand-made tiles, floor tiles, furniture, metal and tin light fixtures, mirrors, and even ceramic tabletop accessories. Mr. Rymer was deeply connected with Mexico and carved out a fulfilling life for his wife and five sons.
His caring and gregarious nature created close and lasting relationships with the people and the small companies he purchased from, some of which we continue today.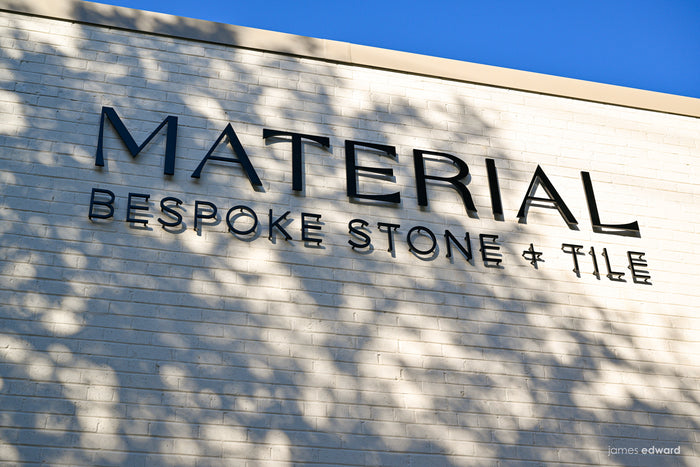 INFLUENCING THE FUTURE OF STONE MANUFACTURING 

In 1980, Mr. Rymer transitioned his sons into the business. They continued importing Mexican stones as well as ceramic tiles - something others hadn't been able to accomplish. At that time, Materials Marketing showrooms were the first to present both thin-cut stone and ceramic tiles under one roof in the U.S. Eventually, the other accessory items and furniture were phased out, with stone and tile being the only focus. 
In 1999, Jim Rymer and Don Rymer, the last two sons involved with Materials Marketing, sold to private equity firm RAF Industries. Jim remained as CEO until 2017. Needless to say, the business has had an everlasting impact - and continues to push beyond the limits of stone manufacturing. 
EARTH'S GEMS

MATERIAL owns and operates all quarry and manufacturing facilities. Every product comes directly from our factories through our showrooms to your home or business. We work directly with our clients to bring their vision to life. Like Mr. Rymer Sr., we continue to collaborate with and source handcrafted, unique collections from renowned designers. 

We source and transform stone, earth's "real gems" into architectural masterpieces. With natural stone comes a wealth of style and our globally influenced bespoke designs fit into classic, modern, and transitional architecturally significant buildings. The options are endless, with stone types like Adoquin, Travertine, and Limestone. 
A STONE FOR EVERY AESTHETIC

Find the widest variety of materials for exteriors and interiors to achieve all your project needs in one place. At MATERIAL, you can choose from an array of stones, all of which are available in tile + mosaics, moldings, and balustrades. 

You can find an array of styles from classical to modern. If you can dream it, we can create it. We understand that you are passionate about the look and feel of your home or space. We share that passion.
FOR THE
TRADE
Enjoy exclusive benefits and complimentary welcome gift.

• Free Sample Library
• Dedicated Sales Consultant
• Access to Trade Events
• Editorial Opportunities
SIGN UP
Use slide labeled with "Go to..." to navigate between each carousel slide.
OUR PROMISE
We are dedicated to the aspirations of each and every client. Our goal is to create your vision, from the perfect fireplace to a personalized bath or exterior. Whether you're an industry veteran or a homeowner with a new passion project, our experts are here to guide you through material selection, design coordination, and architectural drawings for all your project needs.